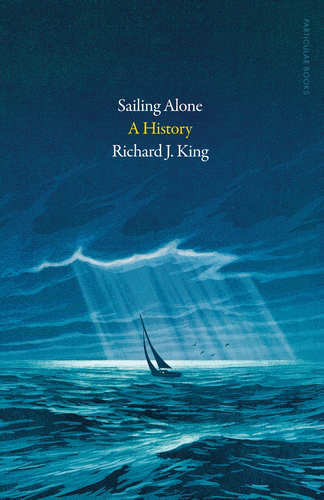 From the publisher: Sailing on a boat by yourself out at sea and out of sight of land can be exhilarating or terrifying, compelling or tedious - sometimes it can be all of these things just in one morning. It is an adventure at odds with our normal, sociable lives, carried out floating on a medium wholly inimical to our existence. But the deep ocean is also a remarkable place on which to think. Richard King's enormously engaging and curious new book is about the debt we owe to solo sailors: women and men, young and old, who have set out alone. Spending weeks and months alone, slowly, quietly and close to the ocean surface is to create the world's largest laboratory: an endlessly changing, capricious and startling place in which to observe oneself, the weather, the stars and myriad sea creatures, from the tiniest to the most massive and threatening. This is a book for anyone who is fascinated by sailing, solitude and the vast seas that cover so much of our planet.
For praise and reviews, click on the blue title above.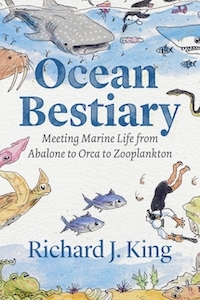 Ocean Bestiary is a delightful A-to-Z menagerie of the sea—whimsically illustrated, authoritative, and thought-provoking.
For millennia, we have taken to the waves. And yet, for humans, the ocean remains our planet's most inaccessible region, the place about which we know the least. From A to Z, abalone to zooplankton, and through both text and original illustrations, Ocean Bestiary is a celebration of our ongoing quest to know the sea and its creatures.
Focusing on individual species or groups of animals, Richard J. King embarks upon a global tour of ocean wildlife, including beluga whales, flying fish, green turtles, mako sharks, noddies, right whales, sea cows (as well as sea lions, sea otters, and sea pickles), skipjack tuna, swordfish, tropicbirds, walrus, and yellow-bellied sea snakes. But more than this, King connects the natural history of ocean animals to the experiences of people out at sea and along the world's coastlines. From firsthand accounts passed down by the earliest Polynesian navigators to observations from Wampanoag clamshell artists, African-American whalemen, Korean female divers (or haenyeo), and today's pilots of deep-sea submersibles—and even to imaginary sea expeditions launched through poems, novels, and paintings—Ocean Bestiary weaves together a diverse array of human voices underrepresented in environmental history to tell the larger story of our relationship with the sea. Sometimes funny, sometimes alarming, but always compelling, King's vignettes reveal both how our perceptions of the sea have changed for the better and how far we still have to go on our voyage.
To read praise and reviews click on the blue book title above.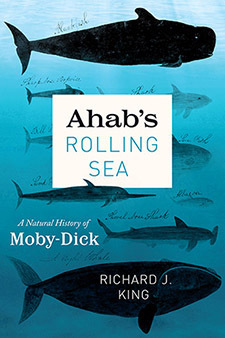 Although Herman Melville's Moby-Dick is beloved as one of the most profound and enduring works of American fiction, we rarely consider it a work of nature writing—or even a novel of the sea. Yet Pulitzer Prize–winning author Annie Dillard avers Moby-Dick is the "best book ever written about nature," and nearly the entirety of the story is set on the waves, with scarcely a whiff of land. In fact, Ishmael's sea yarn is in conversation with the nature writing of Emerson and Thoreau, and Melville himself did much more than live for a year in a cabin beside a pond. He set sail: to the far remote Pacific Ocean, spending more than three years at sea before writing his masterpiece in 1851.
A revelation for Moby-Dick devotees and neophytes alike, Ahab's Rolling Sea is a chronological journey through the natural history of Melville's novel. From white whales to whale intelligence, giant squids, barnacles, albatross, and sharks, Richard J. King examines what Melville knew from his own experiences and the sources available to a reader in the mid-1800s, exploring how and why Melville might have twisted what was known to serve his fiction. King then climbs to the crow's nest, setting Melville in the context of the American perception of the ocean in 1851—at the very start of the Industrial Revolution and just before the publication of On the Origin of Species. King compares Ahab's and Ishmael's worldviews to how we see the ocean today: an expanse still immortal and sublime, but also in crisis. And although the concept of stewardship of the sea would have been entirely foreign, if not absurd, to Melville, King argues that Melville's narrator Ishmael reveals his own tendencies toward what we would now call environmentalism.
Featuring a coffer of illustrations and an array of interviews with contemporary scientists, fishers, and whale watch operators, Ahab's Rolling Sea offers new insight not only into a cherished masterwork and its author but also into our evolving relationship with the briny deep—from whale hunters to climate refugees.
To read praise and reviews click on the blue book title above.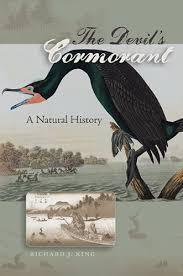 Behold the cormorant: silent, still, cruciform, and brooding; flashing, soaring, quick as a snake. Evolution has crafted the only creature on Earth that can migrate the length of a continent, dive and hunt deep underwater, perch comfortably on a branch or a wire, walk on land, climb up cliff faces, feed on thousands of different species, and live beside both fresh and salt water in a vast global range of temperatures and altitudes, often in close proximity to man. Long a symbol of gluttony, greed, bad luck, and evil, the cormorant has led a troubled existence in human history, myth, and literature. The birds have been prized as a source of mineral wealth in Peru, hunted to extinction in the Arctic, trained by the Japanese to catch fish, demonized by Milton in Paradise Lost, and reviled, despised, and exterminated by sport and commercial fishermen from Israel to Indianapolis, Toronto to Tierra del Fuego. In The Devil's Cormorant, Richard King takes us back in time and around the world to show us the history, nature, ecology, and economy of the world's most misunderstood waterfowl.

2013 Best Sci-Tech Book by Library Journal
2013-5 Association for Literature of the Environment Creative Book Award Shortlist

To read praise and reviews, click on the blue book title above.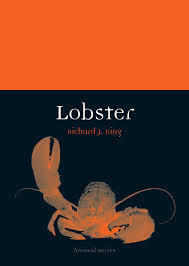 Part of the Animal series, King's Lobster takes us on a journey through the history, biology, and culture of lobsters, including the creature's economic and environmental status worldwide. He describes the evolution of technologies to capture these creatures and addresses the ethics of boiling them alive. Along the way, King--who has worked as both a lobsterman and a fishmonger--also explores the salacious lobster palaces of the 1920s, the animal's thousand-year status as an aphrodisiac, and how the lobster has inspired numerous artists, writers, and thinkers including Aristotle, Dickens, Thoreau, Dalí, and Woody Allen.

To read praise and reviews, click on the blue book title above.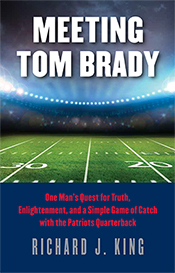 Imagine that you are an average American man. You work hard and love football. Your present is a highway of unbounded opportunity, your future a far horizon unclouded by doubt. Then comes middle age. Who can you look to when the highway begins to crack, when opportunity shrinks to the size of a cubicle, and the horizon looms close? For Richard J. King, the answer is clear: Tom Brady. The legendary quarterback of the New England Patriots is not just a four-time Super Bowl champion, three-time MVP, and certain Hall of Famer. He is a male epitome. Gifted but humble. Driven but balanced. Aging but youthful. Devoted to both career and family. At the pinnacle of success but somehow still one of us. If anyone can point the way to living a worthy life, Tom Brady can. And so, at the start of the 2013 football season, King sets off in an '88 Volkswagen minibus in a time-honored quest to answer life's pressing questions—and to meet his hero. From training camp to the playoffs, from Spy-gate to Deflate-gate, King takes us on a tour of stadiums and bars across the country. Along the way he talks with players, sportswriters, and Patriots management, and poses the existential question, "What would you ask Tom Brady?" Meeting Tom Brady is funny and wise, a memoir of an eventful season in both King's life and Brady's—a determined pursuit, with uncertain results.

To read praise and reviews, click on the blue book title above.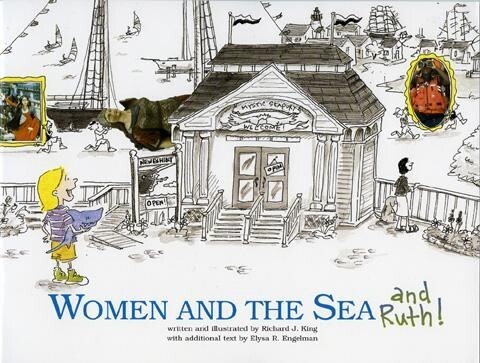 Written and Illustrated by Richard J. King with additional text by Elysa R. Engelman

Ruth, with her stuffed shark, explores a museum exhibit about women and the sea. She goes from painting to photographs learning about the different roles women have had with the ocean.